Car rental companies Aviscar Inc. (Avis) and Budgetcar Inc. (Budget) have agreed to pay a $3 million administrative monetary penalty to settle allegations by the Competition Bureau that they misled consumers into thinking that their rental car prices were lower than they actually were through what is commonly termed "drip pricing". Avis and Budget also agreed to pay $250,000 towards the Bureau's investigative costs and to implement a corporate compliance program.
The 11-page Consent Agreement, filed with the Competition Tribunal, settles the application commenced by the Bureau in March 2015 (see our article Why Car Rentals Cost More Than Advertised: Avis and Budget Taken To Task By Competition Bureau).
The application focussed on "Non-Optional Fees" that Avis and Budget added to the advertised prices. These fees could increase the cost of a car rental by 5% to 20% above the original advertised price, depending on the rental location and vehicle type. Avis and Budget also described these fees in a way that made them seem like they were taxes, when in fact they were not required by the government.
Stopping the drip
In the Consent Agreement, Avis and Budget agreed that they will not make any representation that creates a materially false or misleading general impression that:
consumers can rent cars or related products at prices or percentage-off discounts that are not in fact attainable because of non-optional fees
any non-optional fees are taxes or fees required to be charged by any government.
These rules apply to any representation made in any medium including websites, mobile applications, and any email, flyer, television commercial, or newspaper advertisement.
Avis and Budget also agreed to develop a compliance program within 120 days. Current and future members of Avis and Budget's senior management must certify to the Commissioner of Competition that they will take an active and visible role in the program. All current and future marketing staff must also be given a copy of the Consent Agreement and sign an acknowledgment that they have read and understood it.
The Consent Agreement will remain in force for 10 years.
Takeaways for Businesses
While the Consent Agreement only governs Avis and Budget, it is clear that the Bureau expects all businesses to abide by the rule that the price that the consumer first sees on a website or elsewhere should be a price that the consumer can actually get. All fees imposed by the merchant must be included. Advertised prices do not have to include taxes, however.
Avis and Budget's websites no longer display per-day rental prices on their main web pages. Now, a consumer has to perform a search, after which time an estimated total price appears including (actual) taxes and non-optional fees. Unless optional items are selected, such as a GPS unit or a child seat, the price that appears once a search is performed is usually the price to be paid.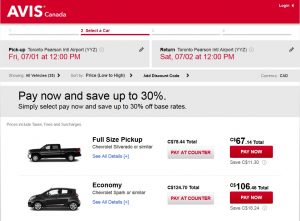 Nevertheless, this rule will create difficulties for businesses, like car rental companies, that base their pricing on a mix of variable and fixed non-optional fees. Car rental companies typically charge a per day rate plus fees that are charged per rental, not per day. The longer the rental, the lower the impact of the fixed fees on the total price. Car rental businesses and other businesses with these pricing models will have to develop a way to advertise prices that takes into account the mix of both the variable and fixed price components.