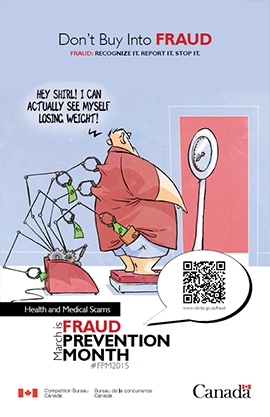 Julius Caesar was once warned to beware of the Ides of March. Unfortunately, consumers and businesses are at risk from fraudsters year round, not just in March, which the Competition Bureau has proclaimed to be "Fraud Prevention Month". Every year since 2004, the Bureau has spent March warning Canadians about fraud and how to combat it. Over 125 law enforcement agencies and public and private sector organizations are participating this year's campaign. Throughout the month, the Competition Bureau and the Fraud Prevent Forum has been carrying out a series of activities and events to inform Canadians about the impact of fraud and how to protect themselves. These initiatives are timely, as a recent survey conducted by the Chartered Professional Accountants of Canada suggests that nearly one in three of those surveyed have been a victim of financial fraud at some point in their life.
Tips for Consumers
The Bureau has released a number of tips for consumers on fraud prevention, which follow the principle of "recognize it, report it, and stop it":
Recognize it:
Protect your identity at all times. Only give out personal information when you know and can absolutely trust the person you're talking to.
Never send money to anyone you don't know or trust. Never send money or pay a fee to claim a prize or lottery winnings and never wire money to someone whose identity you can't confirm. Never give your credit card or banking information over the phone unless you know and trust the person.
Ask for identification and be assertive. Demand to see identification of

door-to-door

salespeople and send them away if you're not comfortable. Especially when someone claims to have an official capacity, make sure they provide you with clear and official identification.
Beware of text scams or spam

e-mail

. Never reply to spam

e-mail

or text messages from people or organizations you've never heard of. Be wary even if messages appear to come from a source you know — legitimate banks would never ask for account information in an

e-mail

or text. Be careful of clicking on embedded links, especially when they transfer you to a site asking for your name and password.
Beware of free downloads and requests for passwords. A "free" game, application or trial offer that requires a credit card number can lead to charges you didn't expect. Downloading suspicious content can harm your computer and compromise your identity. Choose uncommon passwords, change them regularly and don't share them with others.
Be a good Samaritan, but be a careful Samaritan. If someone asks to use your phone, ask for the number and enter it yourself: some numbers charge fees for merely calling or texting them.
Report It:  Consumers can contact local law enforcement authorities as a first step. Reporting fraudulent activity helps agencies identify trends, monitor risks and take action.
Stop It: The Canadian Edition of The Little Black Book of Scams provides a comprehensive list of common scams, such as lotteries/sweepstakes/contests, money transfer requests and internet scams, and tips on minimizing damages when you've become a victim of fraud. The Competition Bureau's fraud prevention portal also provides additional resources, including common techniques used by fraudsters, victim stories, and a useful fraud quiz.
Tips for Businesses
Fraudsters also target businesses. Some of the common types of business scams that have been reported in recent years include:
Telemarketing Scams – Companies sold office supplies, medical kits and business directories over the phone to businesses at an inflated price without placing any actual orders. The companies and individuals responsible were charged for deceptive telemarketing and misleading representations under the Competition Act.
Business Directory Scams – In one recent example, companies operating under names similar to Yellow Pages sent unsolicited faxes to thousands of businesses across Canada and several other countries that misled them into believing that they needed to update information for their Yellow Pages listings. The faxes contained a fine print which bound those who returned the fax to a 2-year contract for $2,856. The fraudsters were ordered to pay penalties and restitution by the court.
Invoice Scams – Invoices sent from an "authorized" service provider to businesses claiming that the provider will contact collection agencies if the invoices are not paid. These services may include online advertising, webhosting and trademark/copyright services etc. A common tactic used by fraudsters is a fine print which states that this document is only a form of advertising and not an invoice.
The Competition Bureau has recommended the following steps for avoiding common scams aimed at businesses:
Closely examine any ads or offers, and ask questions about anything that's unclear.
Review all unsolicited offers with a critical eye, even if they seem to come from

well-known

companies.
If an offer comes in from a known company, look up their contact information, and contact the company to confirm whether they actually sent the offer.
Inform yourself about the product or service offered and don't be pressured to act immediately. Take time to do your research.
Read the fine print to understand what you are agreeing to.
Always ask for a copy of an offer in writing.
Before paying, confirm that you actually agreed to purchase a product or service, and make sure you get what you ordered. Don't be bullied into paying for something by threats to damage your credit rating. Paying bills only when suppliers have a purchase order number from your company will help put an end to these billing scams
Because fraudsters may use a wide range of creative tactics, businesses are advised to question the legitimacy of every inquiry for payment, no matter how official it may appear to be.
Tips for Law Firms and Clients
Even law firms are not spared by scammers. Lawyers in Canada are frequently targeted by bad cheque frauds. In this type of scam, the fraudster seeks legal service on what appears to be a legitimate matter, typically related to debt collection. The lawyer receives a fake cheque as payment for the debt and deposits the cheque into the lawyer's trust account. The fraudster then requests the the lawyer to disburse the funds immediately, the lawyer obliges but ends up having to repay the bank large amounts of money from the trust account once the fraud is discovered. Similar to other types of scams, fraudsters have developed sophisticated ways to make the transaction appear more convincing, which include collaborating with other parties to create a lender-borrower scenario, providing high-quality client IDs, and printing counterfeit cheques that look and feel authentic even to bank tellers and managers. For a list of confirmed frauds reported by lawyers, as well as common red flags of a bad cheque fraud, visit LawPRO's AvoidAClaim Blog.
The Law Society of Scotland has reported a growing number of fake law firms that set up websites using real lawyers' profiles and branding to solicit confidential financial information from individuals seeking legal service. Although similar incidents have not surfaced in Canada, law firms need to vigilant in protecting their online presence being misappropriated for fraudulent purposes. Precautionary measures can be as simple as conducting an online search of a particular lawyer to see if the same person appears under different law firm websites, or sending a reminder to clients of the firm's payment collection policies and procedures.
[The image in this post is one of the Competition Bureau's Posters for Fraud Prevention Month, published February 28, 2015. Reproduced with permission of the Minister of Industry, 2015]