Affleck Greene McMurtry LLP is proud to support Harry as he walks 500 miles from New York City to Toronto – a half marathon a day for 45 days – in an effort to bring awareness and raise funds for Parkinson's research.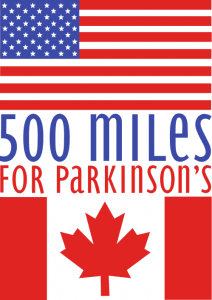 100% of all donations will be distributed to three charities: The Michael J. Fox Foundation for Parkinson's Research; the Morton and Gloria Shulman Movement Disorders Centre and The Edmond J. Safra Program in Parkinson's Disease at the Toronto Western Hospital (led by Dr. Tony Lang); and the Mount Sinai Beth Israel Movement Disorders Center in New York (led by Dr. Susan Bressman).
"We commend Harry on his courage and determination in undertaking such an incredible challenge," says Peter Greene, Senior Partner at Affleck Greene McMurtry LLP. "While we cannot walk a mile in Harry's shoes, we are with him in spirit and support his achievements every step of the way."
To find out more about Harry's journey, please visit 500 Miles For Parkinson's.
To make a direct donation to any of the three charities, please visit Donate to 500 Miles for Parkinson's.